Voice of a Senior Employee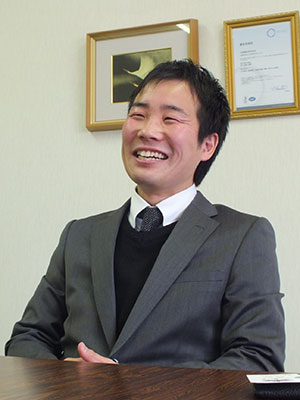 I joined this company as a salesman several years ago.
Upon reflection, the past several years seem to have gone by in the blink of an eye. Unlike traditional door-to-door sales, my work in the company has been full of creativity and rewarding.
After I joined the company, my seniors initially followed me constantly on my sales rounds for half a year and then they continued to provide follow-up supervision after that. As a result, I was able to learn the ropes of the trade without any problems even though the industry requires a high level of professional knowledge.
Looking at my seniors, they all have their own fields of expertise, with an acute sense of "professionalism" about them. I would like to work even harder in future so that I myself will be thought of as a professional some day just like my seniors.
I think the biggest trait of Kyoei Tsusho lies in its "spirit of accepting challenges".
Unlike other companies where written reports have to be submitted, I feel the openness in corporate communications in being able to report directly to the company president on the same floor and to discuss my own proposals and thoughts. The president is also flexible enough in his thinking to accept proposals on new products for customer, making me feel that I too can realize my dream of landing a huge order with my own proposal.
Since then, I have been able to develop new customers amid tough competition posed by other companies in the same industry. Meanwhile, I have also obtained qualifications on toxic and hazardous substances, making my days spent in the company very fulfilling.
In particular, the area that I am in charge of has also been expanded in the past year, and thus I think my sales scope has also widened and become more stable.
Going forward, I would like to maintain a positive attitude in my work while setting a good example on taking up challenges to new company recruits.
Recruitment Information Show more
There is no article which is registered.